Our concept : promote original artworks which are intimately connected to Japanese culture,
traditional or contemporary, created by French or Japanese artists.
Director : Kisako KIMOTO

MAISON D'ART ONLINE SALE




MAISON D'ART acts as an art management agent, introducing French artists to Japan
and Japanese Artists(mainly based in Kansai) to Tokyo and abroad.





2023 02.10-12




202023 .01.13-15  ONE ART Taipei 2023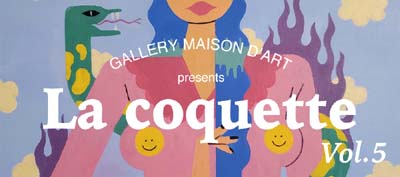 2022.12.16-24




2022.10.5-9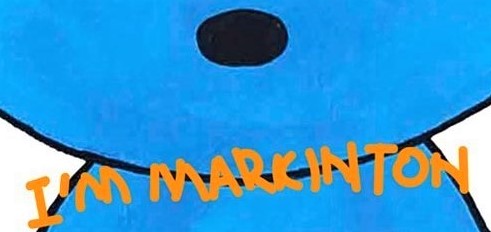 2022.9.21-25




2022.7.15-7.23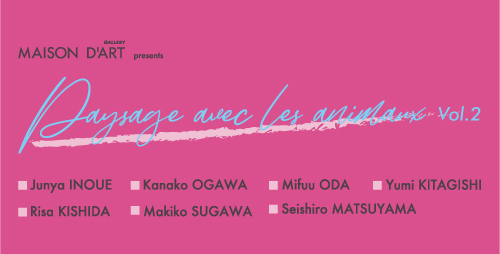 2022.6.17-6.25




2022.5.20-5.28




2022.4.22-4.30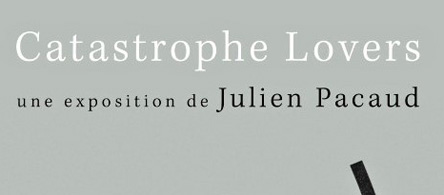 2022.3.4-3.12



2022.1.28 fri.-2.13 sun.






2021.10.15 fri.-10.17 sun.

NEW NIHONGA / 日本画 4 EXHIBITION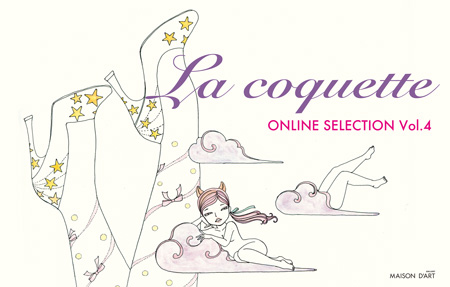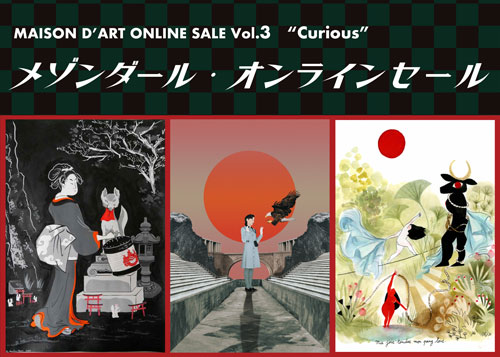 MAISON D'ART ONLINE SALE Vol.1 "MID SUMMER"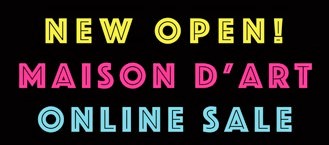 Due to THE COVID-19 outbreak,
GALLERYMAISON D'ART opend only by appointments for a while.
We apologize for any inconvenience,
Many thanks and please take good care of yourself.

*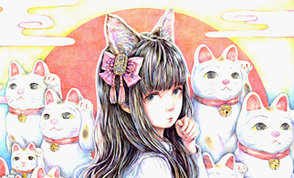 "ONE ART TAIPEI 2020"
  @The Sherwood Taipei, Taiwan



EXHIBITING ARTISTS
Mayumi KONNO / Akane SASAKI / Yui NAKANO / Féebrile
+
MAISON D'ART GINZA AWARD WINNERS -Suisui / ena /Aika TAKAHATA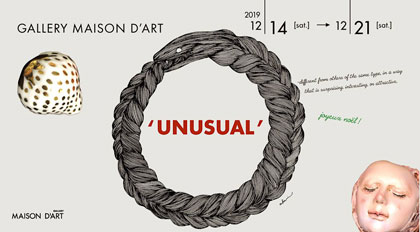 30th Oct.-17th Nov.
@MAISON D'ART GINZA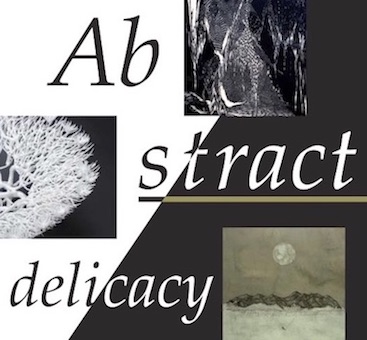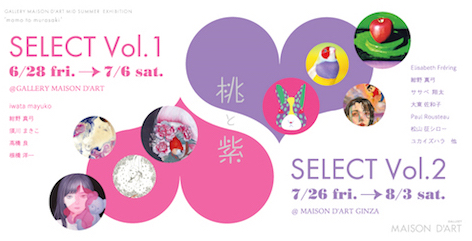 MAISON D'ART "Pink and Purple"
Pink and Purple held in Osaka gathers works of art with pink as the main colour,
whereas the Purple version held in Tokyo gathers works of art with purple details.


AFFORDABLE ART FAIR HONG KONG 2019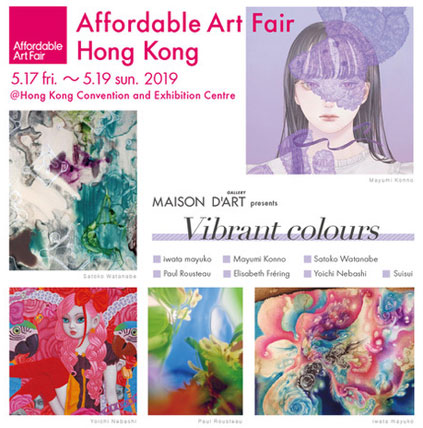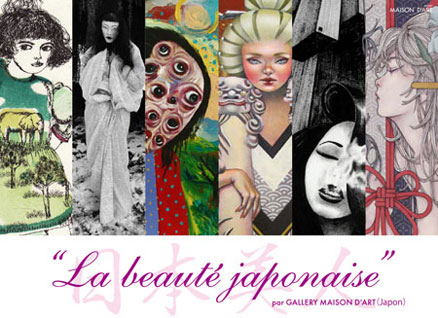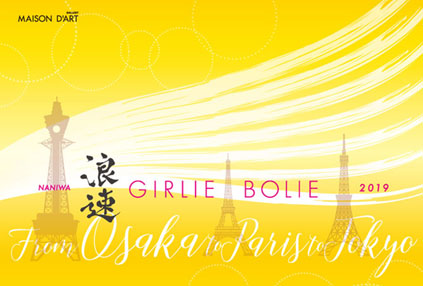 Orie INOUE→Misato UEKUSA×Chieko HARADA→Shinya DAITO @MAISON D'ART GINZA  Du 8 au 27 octobre.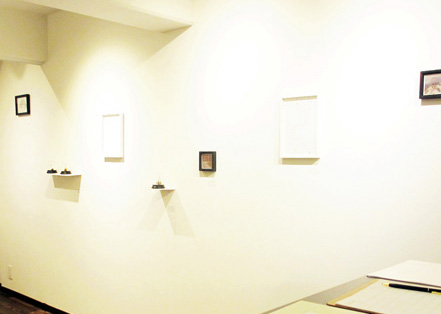 Orie INOUE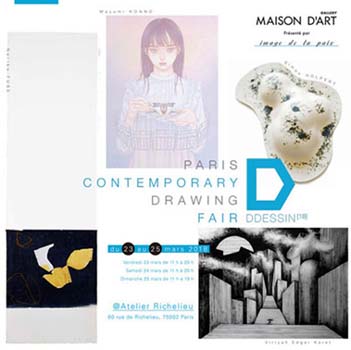 du 22 au 25,2018 mars.D DESSIN PARIS
'LE JAPON a PARIS' du 24 octobre au 4 novembre ,2017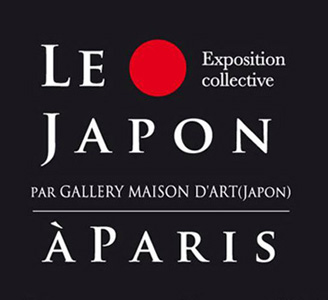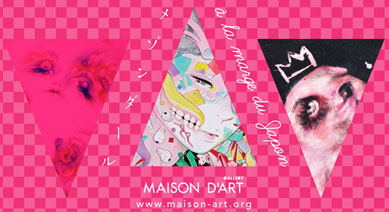 du 23 au 26 mars @D DESSIN PARIS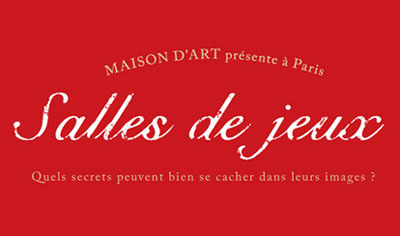 FOTOFEVER PARIS @Carrousel du Louvre Paris
"Play room / Salle de jeu / 遊戯室"
-Féebrile×Atsushi TANI×Kenichi MURATA×Halto MORI


7/5 tue.-7/31 sat.




Syota SASABE→Seiji UKAWA→ Ryo YAMAUCHI
→Sakura TAMAGAWA ×Ai WATANABE
@MAISON D'ART GINZA



3/31-4/3 ,2016 @MAISON D'ART PARIS



-Jean-Marc FORAX, Lucas RUIZ, Caroline SALMON,
Yoshifumi HAYASHI,-minchi, Yoichi ITAKURA,Moco Sawada.

3/4 -3/14 @MAISON D'ART Osaka
OSAKA• RETRO 〜『乙姫箱-OTOMEBAKO』





Merci à toutes et tous d' être venus nous voir sur notre stand YIA.
Notre sélection pour cette édition 2015 réunissait : 2 artistes francaises et 3 japonaises. n'hésitez pas à nous demander. Merci,
Artistes exposés : Anaïs Ysebaert /minchi /Féebrile / Risa Mehmet / wassa /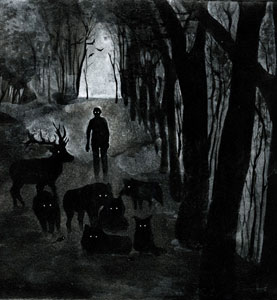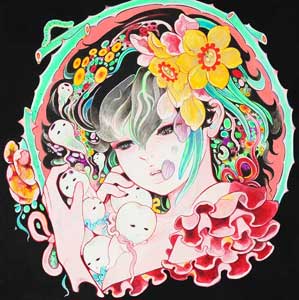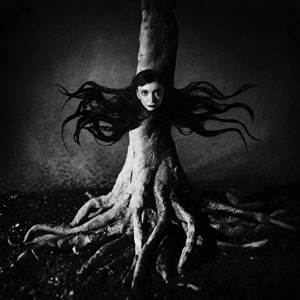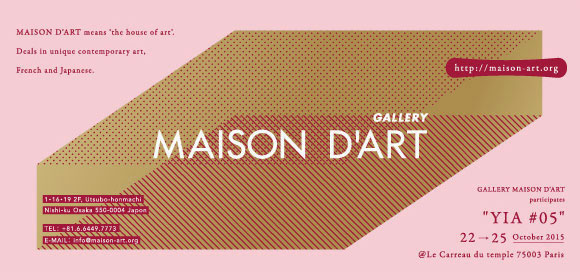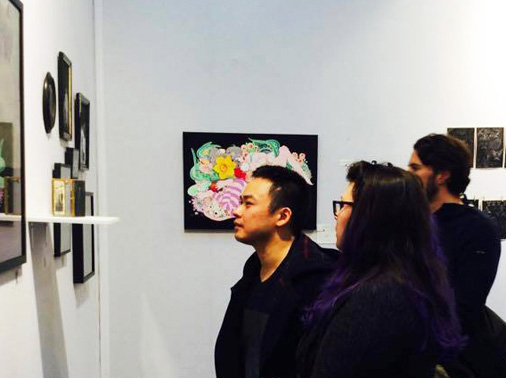 MAISON D'ART GINZA(Tokyo)-after renovating !




Anaïs Ysebaert, Féebrile, minchi,Kosuke AJIRO, Risa mehmet, Syota SASABE, wassa.


4/24 fri.-4/26 sun. "Young Art Taipei2015" @Sheraton Grande Taipei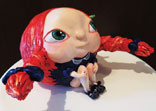 .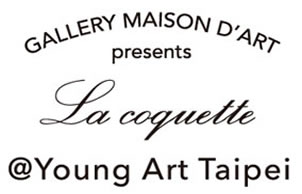 -Selection of the newest Japanese artists.
Influenced by Japanese traditional art and also pop culture; ARTWORK

   
12/13 sat.-20 sat. 2014
Risa Mehmet, "My Confessions-Pour Noël"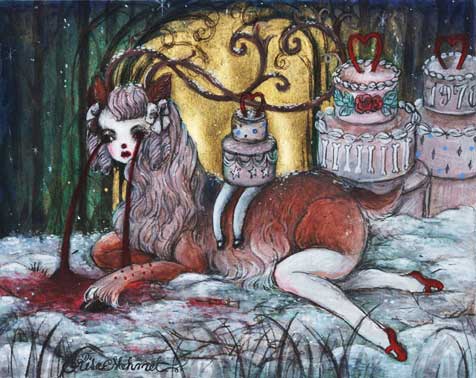 @Paris
November,2014,MAISON D'ART presents -"Nouvelles nuances du Japon"
MAISON D'ART presents 11/20thu.-11/22sat. @MAISON D'ART Paris
Solo exhibition of Risa Mehmet, "My Confessions"& 12 CD sized art work exhibition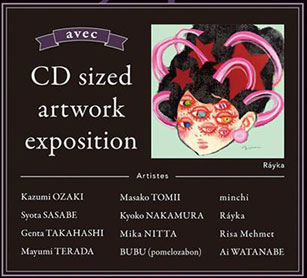 @ fotofever 2014
MAISON D'ART joins 11/13thu. -16sun. @ carrousel du louvre.
Two different universes will cohabitate in our space :
*Atsushi TANI,Sawako DAITO and Kisako KIMOTO ( MAISON D'ART) stay Booth:G2.
Atsushi TANI: "Histoire de l'œil"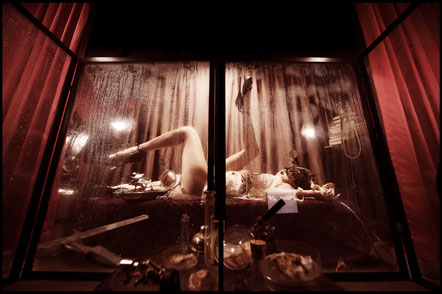 He explores the beauty of women's bodies with an atmosphere between Gothic and surrealism.
Sawako DAITO:"JAPANESE APPLE"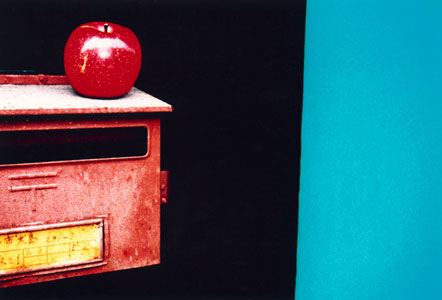 She has been developing "the portrait of Japanese apples" for more than 10 years.

10/4-18 @MAISON D'ART bis(Osaka) -Syota SASABE" I might do not have to kill anyone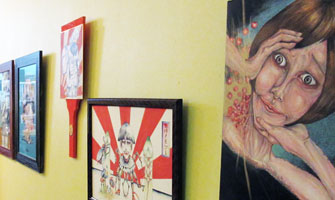 MAISON D'ART presents"CD sized artwork exposition Vol.6"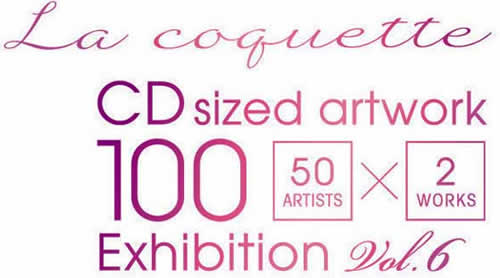 9/12(fri.)-14(sun.):MAISON D'ART GINZA(Tokyo)
9/23(tue.)~9/28(sun.):MAISON D'ART Bis(Osaka)  
'De ParisVol.6' @MAISON D'ART Osaka
6/25 wed.-7/6 sun.2014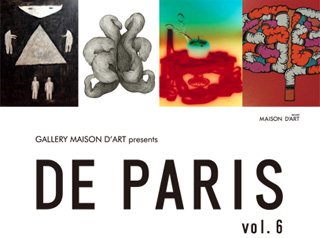 wassa,Lucas RUIZ(Paris), Sawako DAITO,kiiman,
Yoichi ITAKURA,Misato UEKUSA, Yoshiyuki KAWAHARA,Eisaku ANDO.
5/16fri.-5/25sun. " Que sera sera Vol.6" @MAISON D'ART Bis
 

minchi

*MAISON D'ART joins 3/27,28,29,30, 2014.
PARIS CONTEMPORARY DRAWING FAIR, DDESSIN14(Paris) @Atelier Richelieu
artists - Yukari MIYAGI/ wassa /Yoshiyuki KAWAHARA
/Mayuko IWATA /Yoichi ITAKURA and Yoshikazu EBISU ( guest)
 
9/24 tue.-10/5 sat.
Installation by 6 girly artists. ↓"In the skirt..."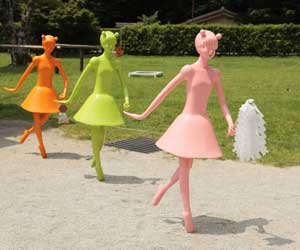 7/19 fri.-8/3 sat.
MAISON D'ART presents
"C'est moi" - Yui SAMEJIMA × Yumi NAKATA × Anna OYA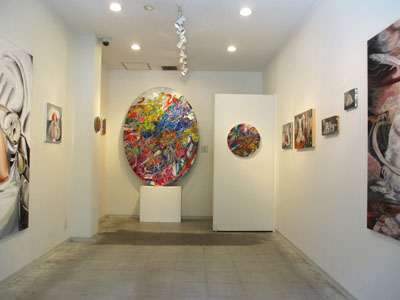 @MAISON D'ART GINZA(Tokyo)
6/7.8.9"SUPER ART BAZAR - Vol.7"
Welcome to GINZA 7 chome!


@MAISON D'ART Osaka
5/16 thu.-5/26 sun. (sunday open)
Eisaku ANDO Exhibition. "YAOROZUYA"-Wood carving 



Active in Paris...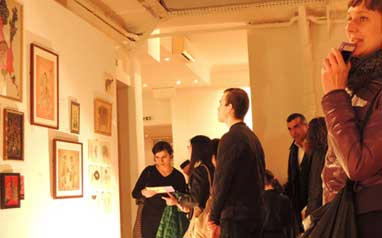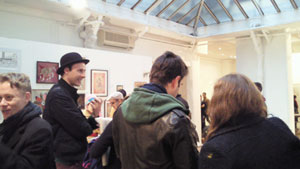 -la foire d'art contemporain "DDESSIN 13"
holds an exhibition,event,and participates in an art fair!  
-Espace JaponParis
De plus,4/13 sat."Soiree speciale Atsushi TANI"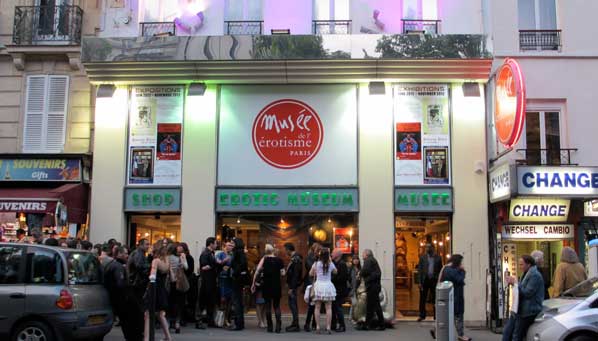 @Musee de l'erotisme(Paris)
SOLD OUT! -36 art works 11/15,2012 -5/31,2013
.



@GALLERY MAISON D'ART(Osaka,Japon)
1/24 thu.-2/16 sat.2013
"En continu "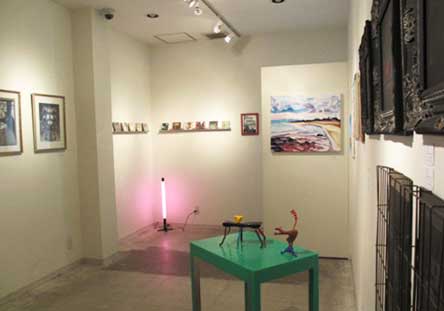 Yoshifumi HAYASHI ,Keiju KAWASHIMA,Christian PETER...

*

 @MAISON D'ART Paris!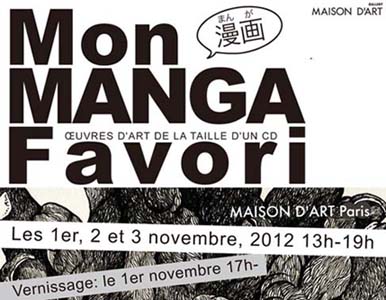 Vernissage -Adam KUAMBA,Jean-Marc FORAX,
Lucas Ruiz,Jennifer CRINIERE,Sylvain ROYER,Valerie BELMOKHTAR... Kisako KIMOTO(MAISON D'ART) a la galerie!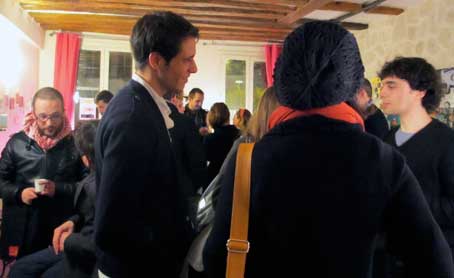 *

"Japanese new eroticism" @MAISON D'ART Paris!  6/15 fri.,6/16 sat.2013
Yoshifumi HAYASHI,Etsuko MIURA,Satomi KUWAHARA,Atushi TANI...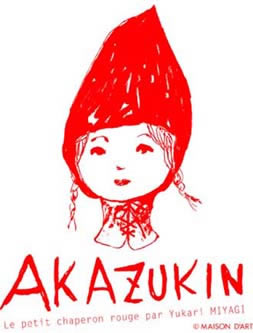 "MAISON D'ART original "AKAZUKIN T-shirts"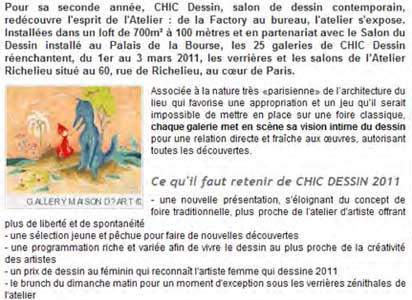 ←FIGARO!

Art KYOTO 2012!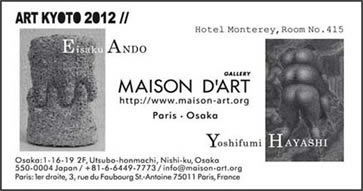 ←TIMES, JAPAN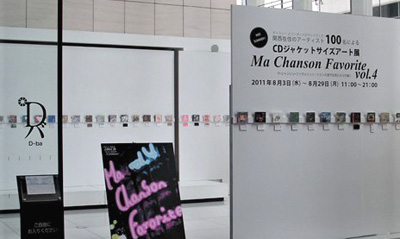 "Ma chanson favorite vol.4" by 100 artists living in kansai. Selected artists presented
@ CHIC ART FAIR Paris.

CHIC Art Fair Paris FRANCE 2011 & Art et Mode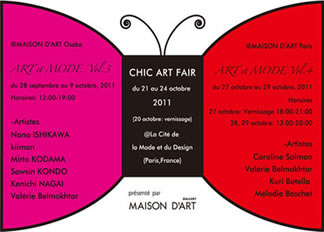 ***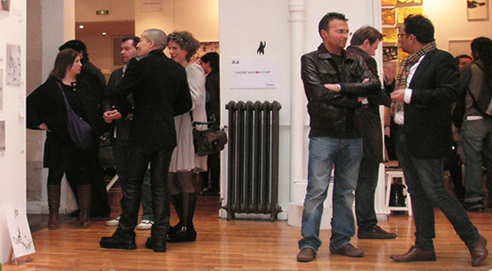 CHIC DESSIN PARIS,France,in 2011