Voila une nouvelle de final "CDsized Artwork Exposition"
by 7artists (living in osaka)

12/13 sat.-20 sat.13:00-19:00 @MAISON D'ART Osaka
-These are all original and also contains a secret ,private gift in the jacket.
You can buy it anywhere in the world via Paypal ! 6.000JPY〜16.000JPY (Valuable price!)
Mail: info@maison-art.org
★
Kazumi OZAKI/尾崎カズミ "Born from a planet" 8.000yen

(Gouache,colored pencil,pen on paper / gouache on plywood)
The girl that appeared in my pictures is always living in my heart. She is like a daughter.
She moves about happily and freely in nature I love.
I think I want to express a good relationship with nature through her.
Syota SASABE/ササベ翔太 "Adolecence:思春期の妄想" 6.000yen

(Acrylic, ink on paper)
My picture is expressing people's barbarity and negative feeling of an inside.
This picture is expressing an adolescent woman's uneasiness and expectation about a sex.

Genta TAKAHASHI/高橋元太 " A cute japanese girl" 10.000yen

(Gesso, pencil, acrylic gouache on canvas)
My painting feature is combination with the various colorful patterns.
I like showy pop colors, also cherish soft colors.
By taking advantage of my color sense, I want to challenge the picture book for children.
And after this I want to make more digital painting.
Mayumi TERADA/寺田マユミ "恋する女の子" 8.000yen

(Hand-colored prints, colored pencil, gel ink on paper)
The girl is not only lovely,but also mysterious.
This is a secret,in fact she is a FOX that is in love with human male.
And she changes her appearance to human female.

Kyoko NAKAMURA/中村杏子 "めぎつね:Female fox" 6.000yen-Sold!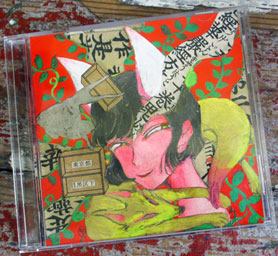 (Acrylic gouache, pen on paper)
I live in Kyoto and I love " Inari" (japanese god of fox )so much.
This work is made by collage and illustration on japanese old paper.
These girls are wearing Japanese traditional clothes-Kimono.

Mika NITTA/新田美佳 " ミジンコの声:Daphnies de la voix" 16.000yen -Sold!

(Ink, pencil, on paper)
I was born in 1986 and iive in Nara ,japan.
I mostly draw "girls" with a creature. My theme is "Universal Life".
I try to meld traditional Japanese styles and manga comics
with a modern, mystic, delicate, magnificent.
minchi " ふみつける:Trample on small creature" 15.000yen -Sold!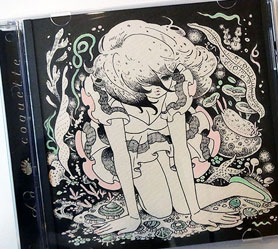 (Acrylic, acryl gouache, on muse kenaf paper)
I feel hard to live this world. Fictitious comics look more attractive than reality.
I would like to transform into reality the attractive world.
I started to draw character's rise and fall of emotions from the fragment of comics.
Instead of my speaking to someone, I emit character's emotions to the external world.



Back

Copyright (C) MAISON D'ART All rights reserved.