AROUND GALLERY MAISON D'ART
( ギャラリ− メゾンダールのある、大阪 靭公園 界隈 ) 




GALLERY MAISON D'ART faces the increasingly popular Utsubo Park.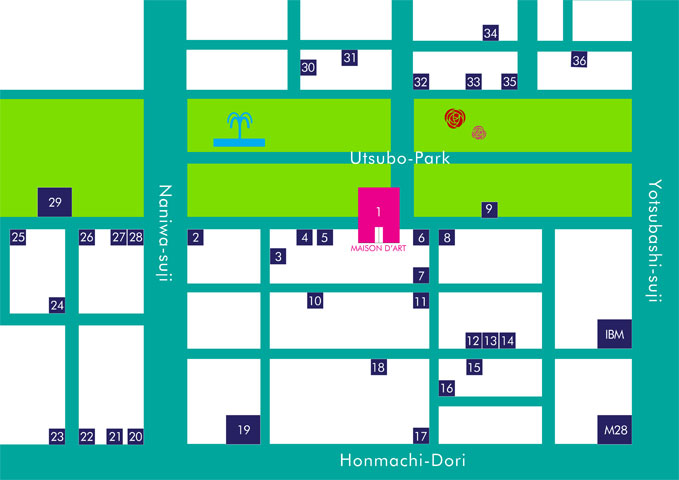 -surrounded by trendy cafes, restaurants, shops and awesome galleries.
This area attracts a lot of people with its new and fresh atmosphere!



1. MAISON D'ART: 2F GALLERY MAISON D'ART, MAISON D'ART bis, 1F Porta Nuova (Cafe&Restaurant), 3F Je suis comme je suis (Hair)
2. LAWSON 3. masa (Soba) 4. SALOON (Hair ) 5. 3F volante (Fashon select shop) 6 .Shintaiki/ 真怡記(Chinese) 7.caloroso (Italian)
8. SPAIN BAR BARCELONA (Cafe&Bar), 9. CANTE GRANDE(Indian Cafe&Restaurant)10. Bonsowa ShiyokuD (Cafe&Bar)
11. 1/f one over f (Aroma candol) 12. 1F coco (Original shoes), 2F Apollonia Bagnall (Beauty salon), 13. G.I. FACTORY (Interior design)
14. BARA no KI (Cafe) 15. Chateau d'abeille(Accessory) 16. Notre manma (Cafe&Bar) 17. Family Mart 18. ULTRA CAFE (cafe&bar)
19. Utsubo Kindergarten 20. City route Hotel 21. Sushiman / すし萬本社 22. Mercedes-Benz (car) 23.Hecrou(Bag) 24. BONBORA (Lights)
25. eternite (French) 26. DBL (Cafe, Diner&Bar) 27. AB'S Shokudo (Restaurant) 28. 1F Kaigan cafe (Chinese cafe), 4F Cocoo (Cafe)
29. Osaka City Parking 30 cavane (Fashion) 31.Les gouters(cake) 32. NEPENTHS (Fashon select shop) 33. Michi (Gallery&Shop),
CAFE IZZO (espresso) 34. hikosen style (Interior) 35. 1F the earth cafe (Cafe&Cake), 5F 2kw gallery 36. port T gallery,A&C gallery#1

*2012年の『大阪市主催:靱公園 バラ祭』は 5月19日、20日。メゾンダールでは、この時期関西の女性アーティスト5人展、"セ モア "を開催!
*Meets regional 4月号(2012)では、大阪のトレンディエリアとして西区が特集されました!




メゾンダールのビルは、雑誌、"Hanako" の靭公園界隈特集の表紙になりました。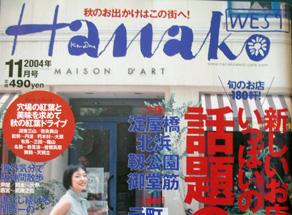 Merci, À bientôt!


TOP  BACK  ENGLISH TOP


Copyright (C) 2013 MAISON D'ART All rights reserved.